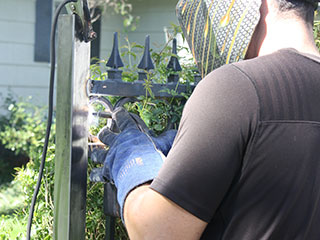 Our company does more than repair and install garage doors, we do the same, and more, for automatic gate systems as well. Regardless of what's causing the problem, or what type of task you need to be completed, our professional technicians can take care of it for you with speed and precision.
Gate Opener Repair
We specialize in fixing issues with the motorized unit that powers the operation of both residential and commercial gates. From replacing worn out motor gears to adjusting the gate's travel limit and keeping from slamming into the edge of its track, there's no type of problem too complex for our specialists to handle. If the problem proves to be too severe, we can even replace your entire opener unit with a new, highly advanced one.
Programming Your Clicker
If it's a matter of you needing a professional to do this for you for the first time, or if a sudden power outage caused some type of failure to the communication between the transmitter and the receiver, you can count on our team for help. We can resent and reprogram remotes and clickers of every make and model, and we can even expertly handle multicode remote systems.
Intercom System Installation
Our team excels in performing this service as we are familiar with all of the major brands and models. We can help you find a system that's a perfect fit for you, and our experts will happily guide you through the different options and help you find one that matches your needs, whether its a video replay interface, a dial-up intercom or any other type.
Electric Gate Maintenance
Our technicians are excellent repairmen and very thorough when it comes to providing our customers with regular maintenance appointments. This is the most effective way to make sure your gate system and all of its parts continue to function optimally for as long as they can. We'll inspect every component, address any issue we discover on the spot, and adjust and lubricate all the parts that can benefit from it.
Complete Gate Replacement
Every system will eventually meet its demise. Not to worry, our team can help you find a new one that will serve your business or your home even better than the last one did. We work with all types of swing and sliding gates, and always keep a full stock of the latest models as soon as they become available. If it's a new rolling gate that you have your eye on, then we can help you find one that requires as little maintenance as possible.
Emergency Services Available
Urgency is usually required when dealing with some type of gate failure. For this reason, we make a genuine effort to come to our customers' aid as quickly as we possibly can, and can offer you a guaranteed same day service. Contact our experts at Garage Door Repair Brooklyn for more information.
Let our team take care of it for you!