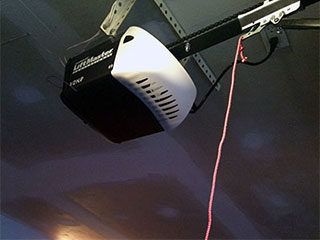 Your garage door system relies upon an electro-mechanical unit called "the opener" in order to become automated. This motorized device uses a drive-system to power the door's operation. Since these complex machines can suffer from a wide variety of issues, a great deal of skill is required in order to repair them.
Common Problems You May Experience
Our experts can help you when your device starts to malfunction for whatever reason. We can replace worn out motor gears that may cause your opener to make strange whirring sounds and render the door inoperable. We can also take care of various circuitry problems that may prevent certain functions, or all of them, from working correctly.
The Main Differences
There are three main types of openers used today. A chain-drive unit is often preferred for its relatively low price and its strong capabilities. However, its main downside is a high noise output that makes many people to opt for the belt-drive type, which operates quite similarly, except silently and more smoothly. Units of this type are often more expensive, however, which is why some homeowners go for the third type. Screw-drive openers use a threaded rod, which makes them faster, and quite strong, but also somewhat loud. Another advantage is that they require less frequent maintenance.
Which is Better?
Well, that's just it. Neither. The choice ultimately comes down to your specific needs. If your bedroom is attached to your garage, then a noisy chain-drive opener may not be for you. However, a silent belt-drive unit may be over your budget, so perhaps a screw-drive model will be a great middle ground.
Leave It Up To Us
Luckily, you don't need to make this decision on your own. Our experts at Garage Door Repair Brooklyn will be more than happy to provide you with answers to all of your questions, or to help you deal with any type of opener-related problem. There's only one thing you need to do and that's – to give us a call!
Need more? We also provide:
Garage Door Tune Up Services
Genie Garage Door Openers
Extension Spring Adjustment
Overhead Door Repair & Installation