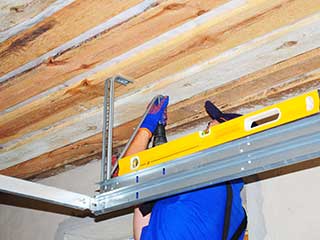 It is really difficult for homeowners, who often have limited knowledge of technical issues, to detect problems with the cables or the tracks. Not only that, even if they can determine what's causing the problem, repairing it can be incredibly dangerous if you don't have the right tools and the necessary training. For this reason, calling our Brooklyn-based team is the right course of action to take.
Why is Calling The Experts So Important?
Sometimes, small problems can end up leading to serious issues. Although a problem such as a garage door that got off track is quite obvious to spot, trying to realign it is an entirely different matter. Door panels can weigh upwards of three hundred pounds, and if they fall on you or your car, the damage they can cause can be severe. Other times, track-related issues may not be clear at a glance, and to prevent them from exacerbating you'll need an experienced technician who knows how to take care of these types of problems carefully and quickly.
Common Track Problems
Although there are more than a few things that can affect your garage door tracks, some problems tend to occur more often than others. Residues of dirt and debris can gradually accumulate inside them, which can eventually result in a blockage. This will prevent the rollers from moving, or force them out of the track, which will, in turn, stop your door from moving, or even cause it to collapse. Another common issue that tends to develop is the bending of certain sections of the tracks. This can usually be detected via the grinding noise it produces. The results of such a problem are similar to the previous one - your door won't be able to move correctly and may end up falling.
What We Can Do
Our technicians give particular attention to these details and make sure to thoroughly and closely inspect your system's vertical and horizontal tracks during every maintenance appointment. Still, if something develops in the meantime, we can certainly take care of it for you. We'll straighten out any bends and dents, and clear out any debris. If the screws that keep your tracks well fastened into position become loose, you can count on us to tighten everything back up and perform the necessary track realignment. If the condition of these components proves to be too severe, we'll simply replace them on the spot.
You Can Always Call Us
No matter what type of overhead door you have, or what type of problem is causing it to malfunction, our team at Garage Door Repair Brooklyn can help you. Contact us whenever you need assistance.