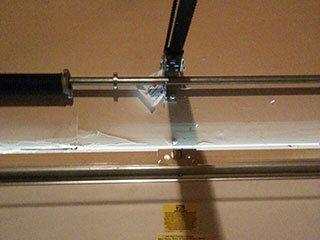 Unfortunately, no garage door spring, whether torsion or extension, will last forever. These parts are placed under a lot of tension whenever the door is opened and closed, which can lead to malfunction or breakage over time. Our highly trained team is ready to jump in and remedy the situation when this happens.
Hazard on Your Hands?
Most of us use our garage space as more than just an area to secure our vehicle. We also use it for storage and as an entryway into our home. A door that doesn't function properly can not only be an annoyance, it can also become a security hazard, especially if the springs break and the door can no longer be opened or closed. If one of yours breaks, you might be tempted to try and solve the problem yourself, but please resist this - they can be very dangerous if they snap when someone is in the vicinity.
When a Spring Breaks
A single broken spring is enough to render your garage door useless, even if the other one is intact. No matter the type your door uses – be it torsion or extension – it's of prime importance to keep an eye on wear and tear. A tired spring prevents the door from opening and closing correctly which can be quite dangerous. If your door uses torsion springs, check the top of your door and evaluate whether there's a gap between them. For extension types, check either side of your door and see whether there seems to be a break anywhere (you'll usually see part of the spring hanging) and of course you won't be able to move your door. Contact us right away if you experience any of these things.
Contact Us Today
To keep your family safe, our highly dedicated team can assess, adjust, lubricate, or replace your springs if they are looking worn or have snapped completely. If you're using extension springs, it is unlikely both will snap at the same time, nevertheless when one goes, we advise replacing the other one at the same time. Contact our experts at Garage Door Repair Brooklyn today to discuss your needs further, we'll be happy to talk to you.
Count on us for:
Garage Door Safety Inspections
Genie & Liftmaster Opener Services
Garage Door Cable Replacement
New Garage Door Installation